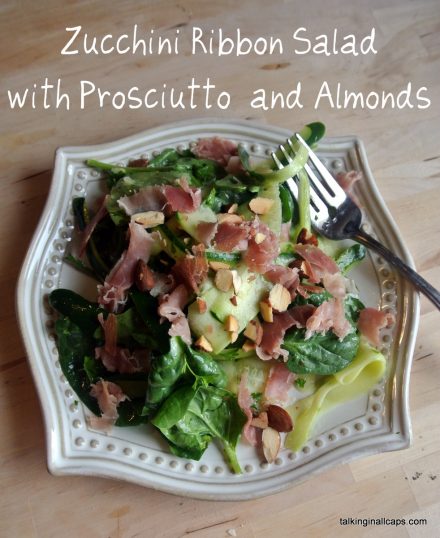 Since I started the 52 salad challenge. I have tried a number of vegetables prepared in ways I'm not used to – primarily raw vegetables that I have always had cooked before. This list includes beets, kale, and Brussels sprouts. So far, not one has been a disappointment. This salad is another example of that. Recommended by my friend Misty from Life Where We Are – this salad features raw zucchini.
Zucchini Ribbon Salad with Prosciutto and Almonds
(adapted from Williams Sonoma's Shaved Zucchini Salad with Almonds & Asiago)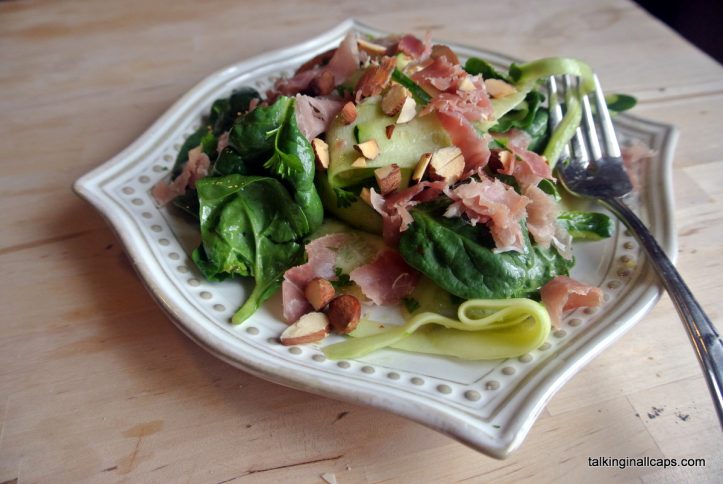 Salad #23 - Zucchini Ribbon Salad with Prosciutto and Almonds
Ingredients
Ingredients
1-2 small zucchinis
3 cups spinach
2-4 slices of prosciutto chopped or sliced
handful of almonds, chopped
few sprigs of parsley chopped
Dressing Ingredients
¼ cup extra virgin olive oil
Juice of half a lemon
1 clove garlic minced
salt and pepper
Instructions
Whisk salad ingredients together in a medium sized bowl until well combined.
Peel the zucchini with a vegetable peeler. Start on one side an then switch to the other. You can discard the middle portion if it becomes to difficult to peel.
Add zucchini and parsley to the dressing and mix well.
Put spinach on salad plates and layer with zucchini mixture. Top with almonds and prosciutto.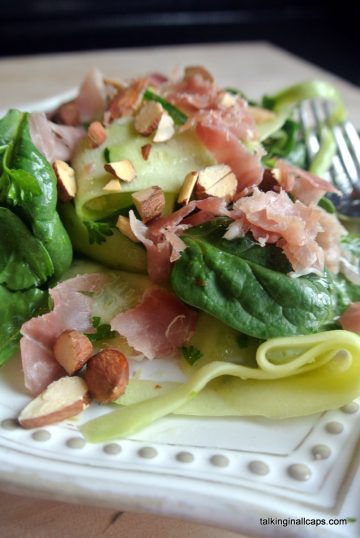 Did They Eat It?
Gordie (4 years old): Refused to try it.
Nicky (15 months): Liked the zucchini.
Stephen: It was good.
Dana: I really liked this salad. It was nice and fresh. It would be a good light lunch or a dinner starter.