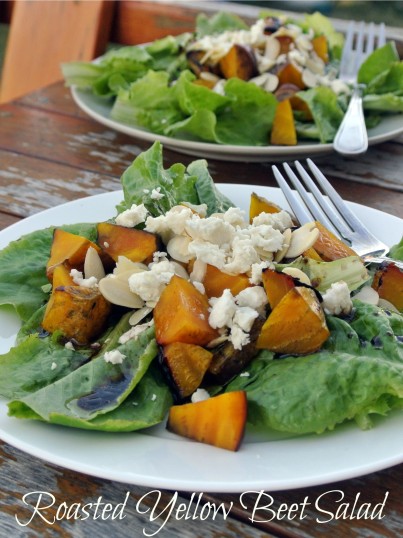 We got a number of beets this year from our CSA (Community Supported Agriculture). The yellow beets are my favorite. They taste pretty much the same as the more common purple beets, but they are way less messy.  This is a pretty classic salad – it's simple, but surprisingly delicious. 


Roasted Yellow Beet Salad with Feta Recipe
(Adapted from The Curvy Carrot's Roasted Balsamic Beet Salad)

Salad #32 - Roasted Yellow Beet Salad with Feta
Ingredients
Salad Ingredients
yellow beets (red or purple will also work just fine)
romaine lettuce (or other greens)
feta cheese, crumbled
sliced almonds
Dressing Ingredients
salt and pepper
2 tablespoons extra-virgin olive oil
⅓ cup balsamic vinegar
1 tablespoon maple syrup
Instructions
Roast (or you can grill instead) the beets until they are cooked through.
Mix dressing ingredients together in a small bowl with a whisk or shake well in a container with a lid.
Layer salad green, beets, feta and dressing on each plate.

Did They Eat It?
Stephen: Traditional but good.
Richard: Very nice. I enjoyed it.
Deb: I don't like roasted beets or goat cheese.
Gordie: Refused to try any of the salad or the beets.
Nicky: Refused to try it.
Dana: I really loved this salad. After the beets were cooked it was easy to throw together too.