I've always been a little intimidated to buy corn still in the husk. At the grocery store by my house, there is a huge garbage can by the corn for the discarded leaves that collect by people examining the corn. I had no idea what I should be looking for but it seemed pretty clear that I should be looking for something. I decided this summer to just bite the bullet and buy some corn. When I brought the corn home and started husking it became pretty obvious what I should have been looking for. To spare you from feeling like an idiot at the grocery store, here are some tips for picking corn at the grocery store.
How to Pick Corn at the Grocery Store
Peel back the husk so you can see the kernels. You may end up losing a few leaves so you can do this which is fine. Some stores will even have a bin for you to discard them.

Look at the kernels on the end. You want them to look plump and firm.
Discard them if the kernels on the end are squashed and broken, or there is a lot of small undeveloped kernels. A few undeveloped kernels on the end is fine, but a lot of them means that the corn was picked before it was fully ripe. You'll also want to look out for discoloration or mold indicating that the corn is past it's prime.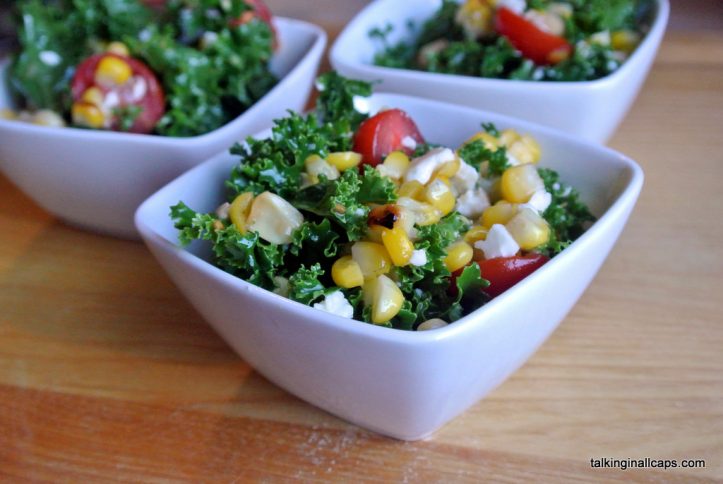 I decided to grill the corn for this salad. I'd never tried that before and wasn't sure it was going to be worth the effort. It turned out to be amazing – I highly recommend giving it a try. Alternatively, you can roast it in the oven which will give similar results. Steaming, boiling or microwaving the corn will still make a great salad but it may lose a little of the awesomeness.
Kale Salad with Grilled Corn Recipe
(adapted from http://www.heatherchristo.com/)

Salad #31 - Kale Salad with Grilled Corn
Ingredients
Salad Ingredients
1 bunch kale, stems removed, cut into small strips
2 ears grilled corn cut off the cob (I used these instructions or baked in tin foil)
Feta cheese crumbled (optional)
1 cup cherry tomatoes, sliced in half
Dressing Ingredients
1 tablespoon grainy mustard
2 teaspoons honey
3 tablespoons olive oil
3 tablespoons white or red wine vinegar
salt and black pepper
Instructions
Mix vegetables a large bowl.
Shake the dressing ingredients in a small container with a lid until well mixed. Or you can whisk them together in a medium sized bowl.
Add the dressing to the vegetables a little at a time and mix until the salad is well covered.
Serve and top with the feta cheese if desired.
Did They Eat it?
Stephen: The salad was good. The corn's what kills it. [In a good way]
Anne: This is good! My new favorite salad.
Nicky (17 months): loved the corn and tomatoes.
Gordie (4 years old): Loved the corn before it went into the salad.
Dana: This is one of my favorite salads so far. It's really very simple but it makes a big impact. I will make this salad again for sure.