When my husband asked me to make a watermelon salad, I made this watermelon salad with red peppers and strawberries. I loved it but apparently it was not the watermelon salad that my husband had in mind. It turns out what he wanted was a grilled chicken salad with watermelon salsa. The salsa turned out really well but the salad needed either a glaze on the chicken or extra dressing over the salad. Maybe a spicy thai dressing or even a balsamic vinegar dressing. Or you can always just put the salsa in a bowl and eat it with chips and call that your salad. Which I absolutely did with the leftovers.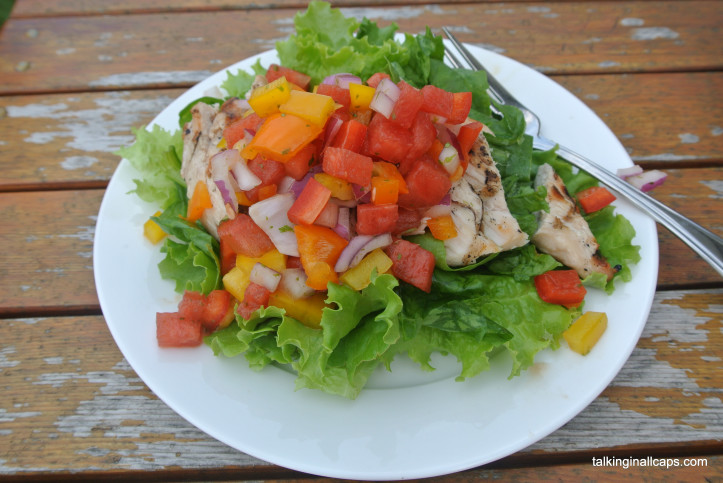 Watermelon Salsa
(adapted from the Pioneer Woman's Watermelon Pico De Gallo Recipe)

Salad #30 - Watermelon Salsa over Grilled Chicken and Greens
Ingredients
⅛-1/4 pf a watermelon, diced
3 peppers, diced (I used red, yellow and orange)
¼ red onion diced
bunch of cilantro chopped
juice of two limes
squirt of sriracha sauce
salt
Instructions
If you are a big cilantro fan, you can just mix the ingredients together in a big bowl.
If you are less certain about cilantro, start by mixing the watermelon, peppers and red onion in a large bowl.
In a food processor (I used a magic bullet) mix together the cilantro, limes, sriracha sauce and salt. Blend well. This will take some of the bite out of the cilantro.
Pour over the salsa and mix well.
Serve over your bed of greens with grilled chicken (and hopefully some kind of dressing).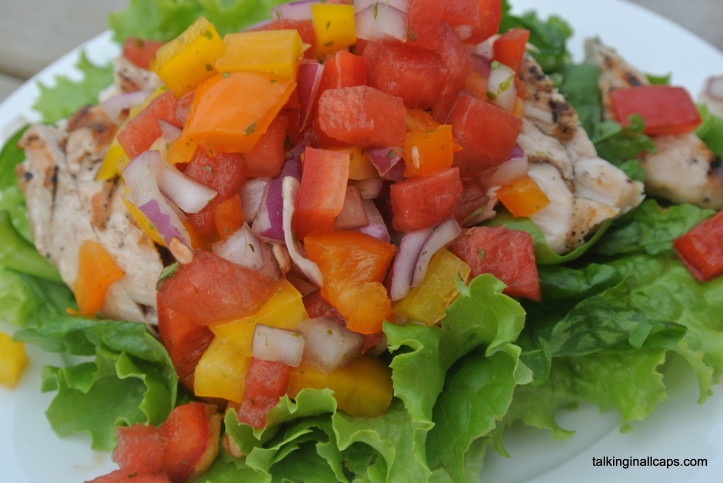 Did They Eat It?
Stephen: Really good.
Nicky (17 months): loved the peppers and watermelon
Gordie (4 years old): loved the watermelon as long as it wasn't part of the salad.
Dana: I found it a little bit bland because I didn't use any additional dressing and had grilled the chicken plain. I would make this again, but would definitely use some kind of dressing. The salsa itself was great.