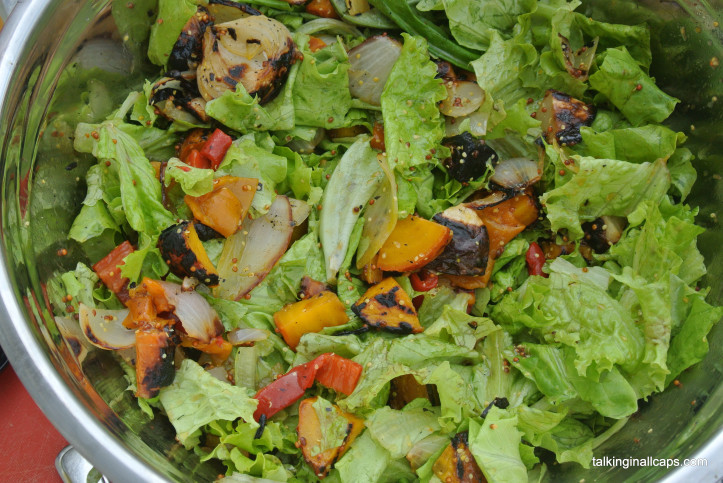 Summer is nearly over, but there is probably a few weeks of great grilling weather left. This salad is a perfect if it's too hot to cook inside but you have some vegetables that you'd like to roast. If the weather is a bit cooler and the thought of turning on your oven doesn't make you want to cry, the vegetables can also be roasted in the oven instead. Below, I've written down the vegetables that I used for my salad, but you could use any grilled vegetables you have on hand including zucchini or asparagus.
Grilled Vegetable Salad with Greens and Mustard Dressing
(Adapted from Cook With What You Have)

Salad #29 - Grilled Vegetable Salad with Greens and Mustard Dressing
Ingredients
 2 medium onions
1 turnip
4 carrots
6 small beets red and yellow
2 large roasted red peppers (from a jar)
lettuce
parsley
2-3 tablespoons whole grain mustard
2 tablespoons olive oil
Zest of 1 lemon
Sea salt and freshly ground pepper
Instructions
Chop Vegetables into large pieces and coat with olive oil.
Mix the oil, lemon juice, mustard and salt and pepper in a small bowl and whisk until well mixed.
Heat your grill to about 400F. I found this to be about medium low on my grill.
Place your vegetables on your grill and cook until cooked through. Turning occassionally. If you are using more tender vegetables this may only take a few minutes, larger root vegetables may take up to 20 minutes.
Take the vegetables off the grill and chop into bite sized pieces. If you are using fresh peppers instead of jarred, place the pepper in a plastic bag for a few minutes to make it easier to take off the skin.
In a large bowl, combine the lettuce, roasted chopped vegetables and dressing.
Serve and enjoy.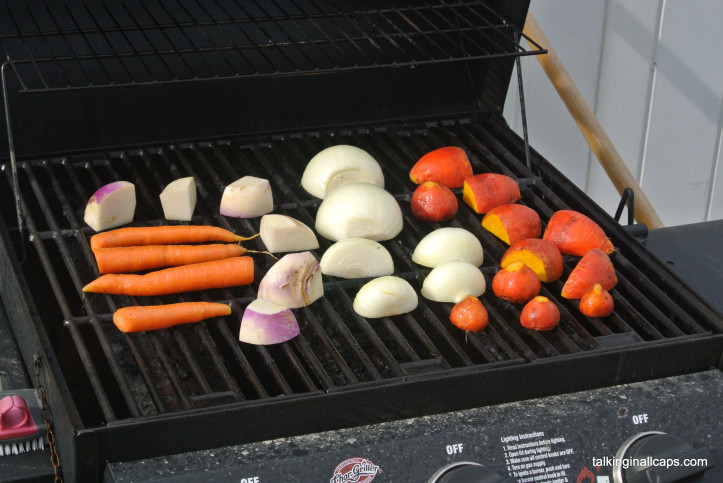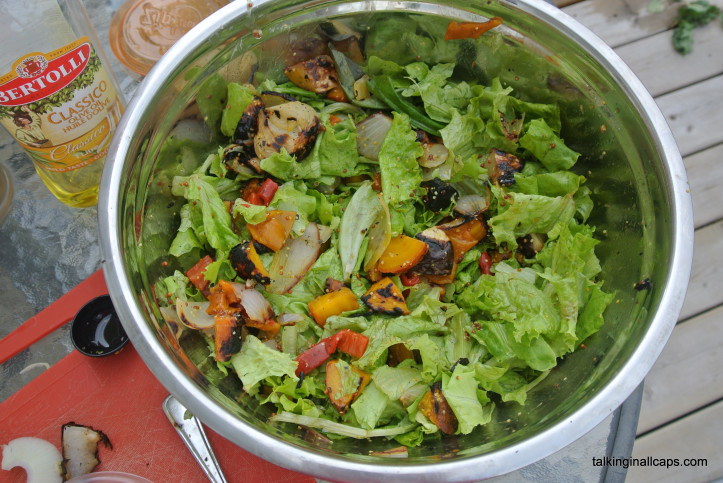 Did they Eat It?
Bronwen – Neat touch with the roasted greens
Anne – really liked it. Surprise to have roasted vegetables in a salad
Grandma Mary – I really liked the one with the beets. Those beets were so good.
Richard – very good. It seemed like there was something with a bit of kick in it too.
John – I filled up on the roasted vegetable salad. Very good. Never had it before.
Dana – This salad was delicious. I would absolutely make this again. One of my favorites so far.