Authentically Inspired, Practical Home Cooking
Come along with me as I explore the world through my kitchen. For each region, I'll be trying about 5 dishes, drawing inspiration from authentic dishes, ingredients or techniques from that region but adapting them for a North American home cook. All the ingredients in this series will be ones I can find in my local (Calgary, Alberta) grocery store and use cooking tools I already have at home.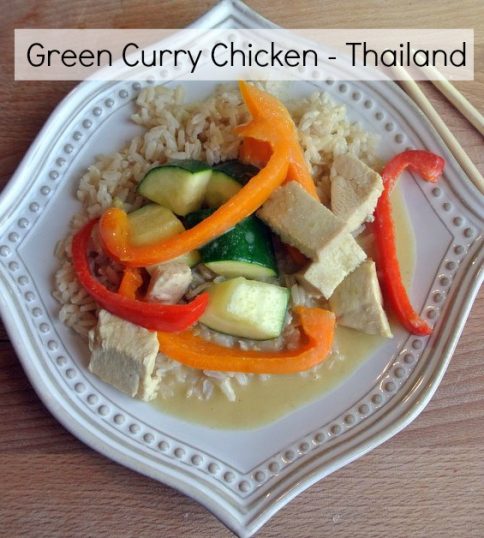 When I'm cooking I try to balance making things from scratch with making things easy. (You know, when I'm not making spaghetti sauce from a jar and peanut butter sandwiches). Using curry paste instead of trying to create it from scratch is a huge win in my opinion. Instead of trying to source hard to find ingredients that you are unfamiliar with – you can get all the benefit of those delicious flavors by just opening a jar. Now, I'm not trying to say that there's no benefit from making curry paste from scratch – I'm sure there is. But if you are just wanting to incorporate some new flavors into your kitchen they are hard to beat for ease and deliciousness.
Curries are a big part of Thai cooking. In Thailand the curries would be typically served quite hot, but the sauces and pastes that you can find at your local grocery store (usually red and green) will generally be pretty mild so you can add heat to suit your family's tastes.
Ingredients You May Be Unfamiliar With and Substitutions
Thai green curry paste – you'll find this in the Thai or Asian section of the grocery store. I found that some of the stores in Calgary would have a green curry sauce and others would have the paste. If you use a sauce use the whole jar or can and, skip the coconut milk.
Kaffir lime leaves – Apparently there is no perfect substitution for these but lime zest is the closest. Kaffir lime leaves will probably be an ingredient in the curry paste so this won't be completely missing from your dish anyway. I have been unable to find these in Calgary grocery stores.
Thai Green Curry – Around the World in 30 Dishes: Thailand
Ingredients
1-2 TBSP green curry paste
1 chicken breast, cut into chunks
1 can coconut milk
4 kaffir lime leaves (if you can find them), OR substitute 1 tsp. grated lime zest
1 red bell pepper, cut into chunks (in the photo I did strips, chunks would be WAY better)
1 zucchini,cut into chunks
fresh basil (if you don't have any you can skip it but it's nice)
2 Tbsp. vegetable oil
Instructions
Heat the oil in a large pan on medium high heat.
Add the curry paste and cook for about a minute or until fragrant.
Add the coconut milk (you can reserve some to drizzle on top if you'd like) and stir well to combine.
Add chicken and bring everything to a boil.
Reduce the heat to a simmer (medium-low) and cook until chicken is cooked through (4-5 minutes).
Add the peppers, zucchini and lime zest (or kaffir lime leaves) and cook for 2-3 more minutes. You want the vegetables to be tender but still firm and brightly colored.
Serve over rice.
Notes
Adapted from: http://thaifood.about.com/od/thairecipes/r/greencurrychick.htm
[amd-zlrecipe-recipe:25]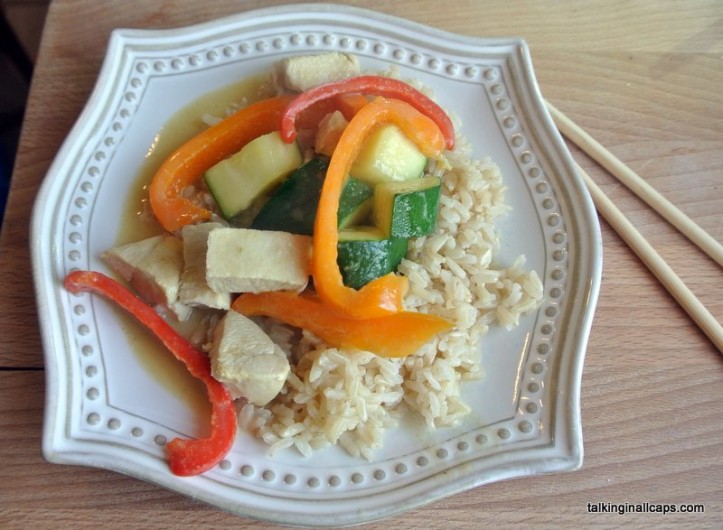 I also tried making this in the crock pot – curries can usually cook for a long time and just get better with increased cooking time, so they are a good candidate for the crock pot. As long as the chicken it cooked through, it won't matter too much exactly how long you cook it. You do have to be careful with the zucchini and peppers. It can be pretty easy to over cook them (like I did). I recommend putting them in towards the end, an hour or two before you'll be eating.