I was browsing through my favorite food blog – Dinner with Julie for some salad inspiration when I came across her recipe for Brussels sprouts slaw.  I don't have a bad relationship with Brussels sprouts. Both my parents hated them as kids, so the first time I had tried one was as an adult. I'm always trying to find ways to serve them that even Brussels Sprout skeptics will enjoy. Brussels Sprouts are readily available in the winter so it seemed like a perfect candidate for Salad #4.
Salad #4 Brussels Sprouts Coleslaw with Candied Nuts
Ingredients
Coleslaw:
1½ lbs of Brussels sprouts (it doesn't really matter how much - big bunch)
Dressing:
¼ cup grainy mustard
2 Tbsp lemon juice
2 Tbsp apple cider vinegar (or plain white, or white wine)
1 Tbsp sugar
¼ cup olive oil
Candied Almonds:
½ cup chopped nuts (I used sliced almonds)
⅓ cup sugar
Instructions
Boil the Brussels sprouts in salted water for 5 minutes. (I was a little skeptical that these would be good, but they are really more blanched than boiled. Honestly they were great straight out of the pot. Be careful not too over cook them.)
Drain the water and run the Brussels sprouts under cold water to stop them from cooking.
If you have a food processor, you can use that to slice them up or you can cut them thinly by hand like I did. If they have a stalky bottom you may want to trim that off first.
Whisk or shake the dressing ingredients together and toss over the slaw to coat. You only need a light coating, but you can use as much as you like.
Candied Almonds Instructions:
Heat frying pan to medium heat.
Add nuts and sugar and stir for 3-7 minutes. You want to keep constantly stirring so your nuts don't burn. When the sugar caramelizes and your nuts are toasted you are done.
Pour them onto tin foil to cool.
Notes
(adapted from http://dinnerwithjulie.com/2009/11/15/brussels-sprout-slaw-maple-pecans/)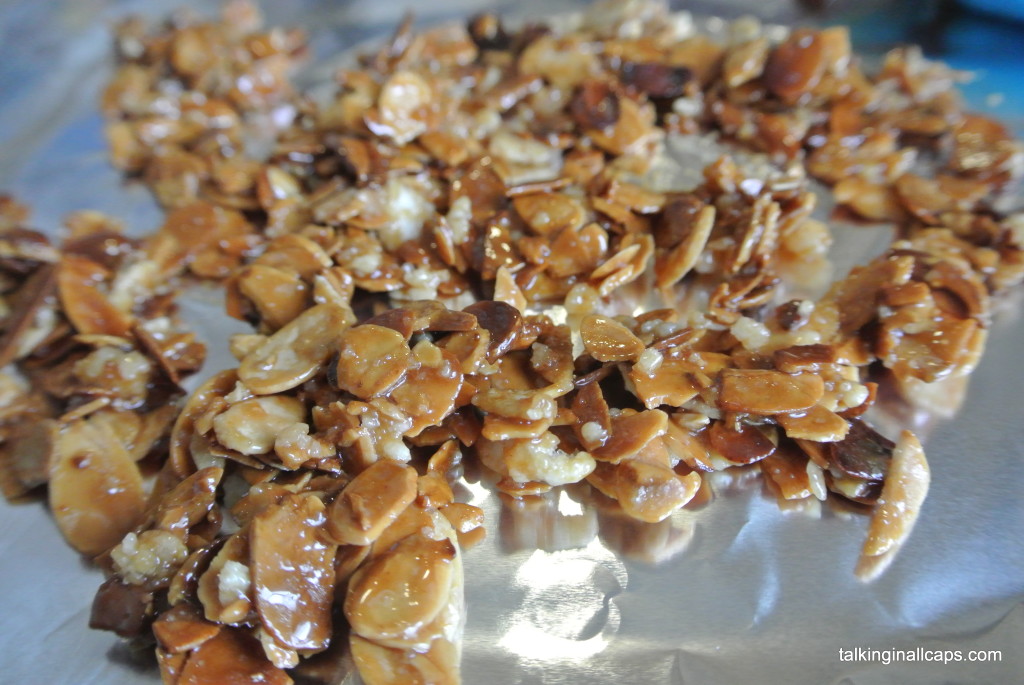 Alternatives:
This salad would also be good topped with maple pecans like Julie did or bits of bacon.
Did they eat it?
Stephen – Surprising taste from Brussels sprouts.
Anne – This is delicious. I like them even better like this than cooked.
Deb – Not bad… for Brussels sprouts.
Gordie (3.5 years) – refused to try it
Dana – I thought this was great. I had used a Dijon mustard which I had in my fridge and I didn't really like that in the dressing. But I don't ever like Dijon mustard so that was no surprise. (but I used it anyway because?? and bought it in the first place because??) The slaw itself though was really good. I couldn't believe how good the Brussels Sprouts were when they were blanched. I would definitely make this again, but I'd try it with bits of bacon instead.