I'm still trying to convince Gordie that salads are not something he should automatically reject. He loves fruit salad, so I thought maybe a salad that was heavy on the fruit might be a promising avenue.
Two of my favorite fruits that are great in the winter are oranges and pomegranates and went searching for salad ideas. I found one that even included beets (which I still have a lot of). I toned it down a little to try and make it more attractive to little people, so I took out things like the onions and added pepper only for people who wanted it. The original recipe called for pomegranate molasses, which I was planning on substituting for balsamic vinegar. I happened to have pomegranate balsamic vinegar (seriously!) so I used that but any fruit or regular balsamic vinegar would be fine.
Blood Orange, Yellow Beet and Pomegranate Salad
(adapted from Epicurious Pomegranate, Beet and Blood Orange Salad)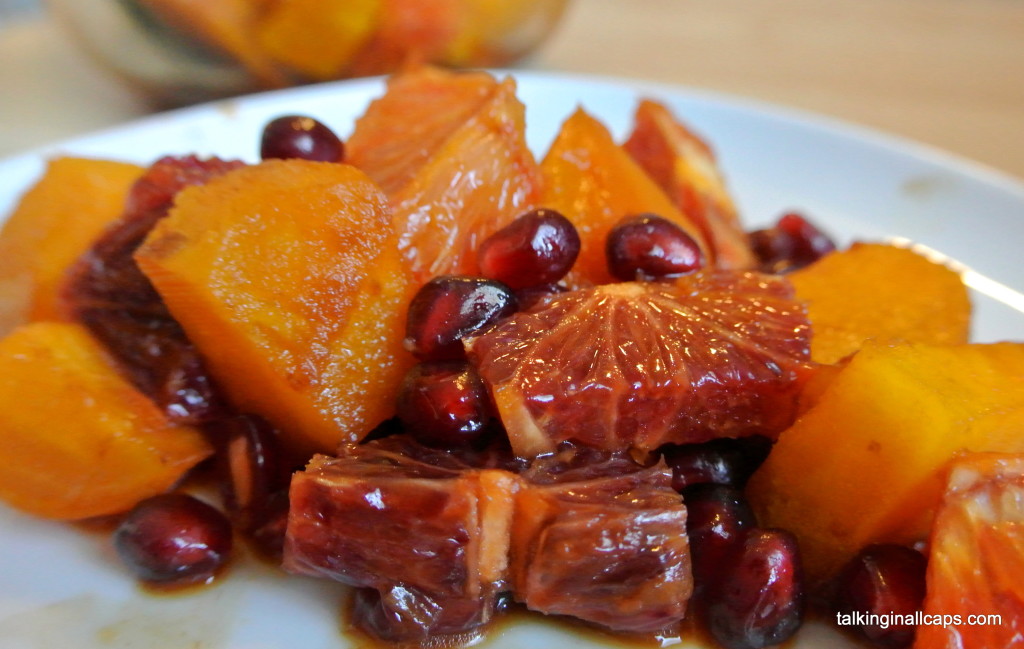 Salad #3 Blood Orange, Yellow Beet and Pomegranate Salad
Ingredients
Seeds from 1 pomegranate
4 sweet oranges (blood oranges are nice)
3-4 medium yellow or red beets (or a mix of both!)
Balsamic Dressing
2 TBSP balsamic vinegar (fruit flavored or regular)
1 TBSP honey (or rogers golden syrup)
touch of oil
sprinkle of freshly ground pepper
Instructions
Roast beets using your favorite method. I like wrapping them in aluminum foil and then sticking them on a cookie sheet for 45-60 minutes, until a knife easily pierces the centre.
Let them cool a bit and then take the skin off with a vegetable peeler.
Cut the beets and oranges up into wedges.
Add the beets, oranges and pomegranate seeds into a big bowl.
Stir together the dressing ingredients in a small bowl and then pour over the salad ingredients.
Did they eat it?
Gordie (3.5 years): Loved the pomegrante seeds and oranges while we were making the salad. Was actually willing to try the salad, but bit into a piece of beet, exclaimed "it's a potato!" and would not try it again.
Nicole (10 months): I'm pretty sure she thinks this was the best thing she had ever eaten. If she saw other people eating it she would demand that they share. Huge hit.
Stephen: "Good. Kinda weird"
Dana: This salad was good but it is not the quickest to throw together. Roasting the beets takes a while as does de-seeding the pomegranate. Gordie really loved helping take the seeds out. So I like that even pretty little kids can be involved in making the salad. It was really good though. It would be a great salad to make for a special meal or if you had company over for dinner.
3 down 51 to go.