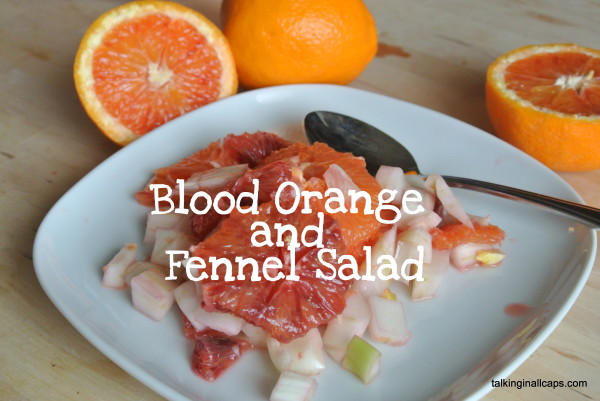 Fennel has a licorice-like flavor which seems like an odd pairing with oranges, but it's basically like tiger ice cream. Except in salad form, and without all the sugar and dairy. Okay, so very little like tiger ice cream. Regardless, it's a great pairing and absolutely delicious.
Fennel and Orange Salad
(adapted from about.com's Tuscan Orange and Fennel Country Salad)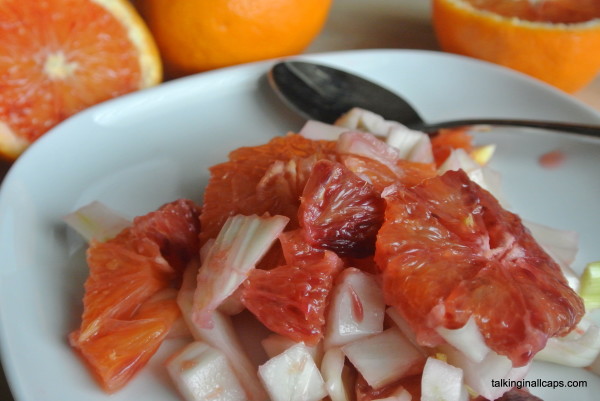 Salad #9 Fennel and Orange Salad
Ingredients
6 oranges (way more if you are making with salad with mooching children) - we used a mixture of pink naval and blood oranges
1 medium-sized fennel bulb
white wine vinegar
olive oil
salt and pepper
Instructions
Chop oranges into segments, slices or wedges are both fine.
Cut off the top of the fennel and any the outer pieces if they look kind of rough. Chop or slice.
Mix the vinegar and olive oil about 2:1.
Add salt and pepper too (we left the pepper out).
Mix everything together and serve.
Variations
Use balsamic vinegar instead of white wine vinegar
Add in some sliced red onion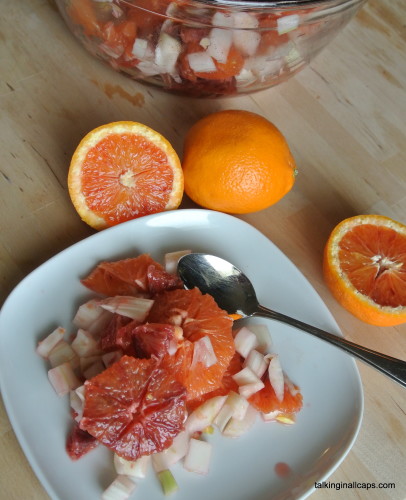 Did they eat it?
Gordie (almost 4): Tried 2 pieces of fennel and 2 pieces of oranges. Ate tons and tons of oranges while we made the salad.
Nicky (12 months): loved the oranges (and also ate a ton while we were making it) but had trouble chewing the fennel
Stephen: Weird but tasty.
Anne: Interesting combination that goes together really well.
Bronwen: The fennel is really good. Thirst quenching.
Dana: This salad is easy to put together and doesn't require a lot of ingredients. One of the things I really liked about it, is how fresh it is for a winter salad.