My friend Erin recommended this salad to me, in her words she blogs about "recipes (that don't kill my husband) and crocheting!" over at Mrs Brits. She raved about how good it was and after making it myself I would have to agree. I used frozen peas and frozen corn, but it would be great with garden peas, snow peas, snap peas or corn kernels cut from the cob.  The flavors are simple and will complement almost any meal. I love how it is so much lighter than your typical pasta salad.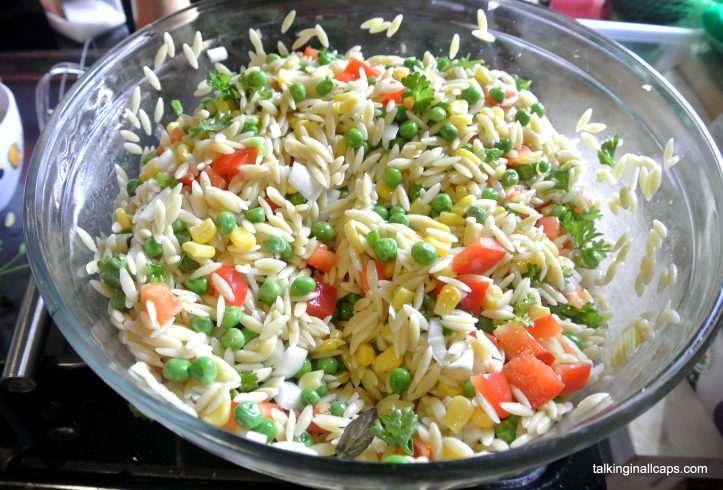 Orzo Summer Vegetable Salad Recipe
(adapted from Healthy Alberta's Orzo Summer Vegetable Recipe)

Salad #28 - Orzo Salad
Ingredients
2 cups orzo
1 red pepper chopped
½ cucumber or two mini cucumbers
2 cups frozen corn
2 cups frozen peas
1-2 tomatoes, chopped
½ cup red or spanish onion (finely chopped)
1 lemon (zest and juice)
handful of parsley chopped (or mint or cilantro - I used parsley with a bit of mint which was quite nice)
Olive oil
salt and pepper
Instructions
Cook the orzo according to the package instructions.
Drain, mix with a little olive oil and let cool in a large bowl. If you are using frozen corn and peas, it doesn't have to get right down to room temperature.
Mix the remaining ingredients with the orzo.
Serve cold or at room temperature. Keeps well for a couple days.
Did They Eat It?
Deb – nice and light compared to a lot of pasta salads
Grandma Mary – I liked it, but not as well as the one with the beets. [review to come]
Richard – very good.
Bronwen – Delicious. Perfect starch complement to the steak.
Nicky (17 months) – Liked the veggies from the salad but left the orzo alone.
Geoff (my special needs brother) – Loved it. Asked for more. Yay!
Anne – Really nice change for the starch.
Dana – This is a nice simple salad, but don't underestimate it. It's easy to put together and switch out the ingredients to whatever you have on hand. The orzo works really well – it didn't get mushy even with a couple of days in the fridge. Perfect to make for a crowd.