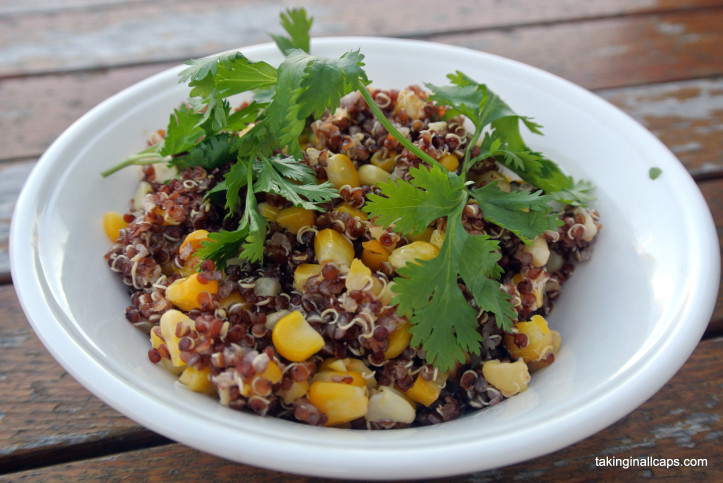 I've been seeing recipes for Mexican street corn popping up on pinterest lately. I ended up with some extra roasted corn after making this salad so I decided to try to make a salad version. This recipe probably does not have much in common with the kind of corn you might actually get on the street, but it is super good nonetheless. Even my relatives who are not keen on spicy food liked this recipe although I did try to keep it pretty mild.
Mexican Street Corn Inspired Quinoa and Corn Salad Recipe
(inspired by this Mexican Street Corn recipe and this Mexican Corn and Quinoa salad recipe)

Salad #33 - Mexican Street Corn Inspired Quinoa and Corn Salad
Ingredients
2 cups cooked red or white quinoa
2  ears grilled corn cut from the cob (or you could just use frozen kernel corn or roast the corn in the oven)
squirt of sriracha sauce (or other hot sauce)
1 lime, juiced (optional)
1-2 tablespoons feta cheese, crumbled (optional)
chili powder to taste
1 TBSP of mayo
drizzle of olive oil
salt and pepper to taste
1 handful cilantro, chopped (optional)
Instructions
Mix up the mayo, olive oil, chili powder, salt and pepper (and lime if using).
Mix the dressing with the quinoa, corn, a squirt of sriracha sauce (and the feta and cilantro if using).
Adjust the heat as you like with the chili powder and sriracha sauce.
Best served at room temperature, but generally just delicious.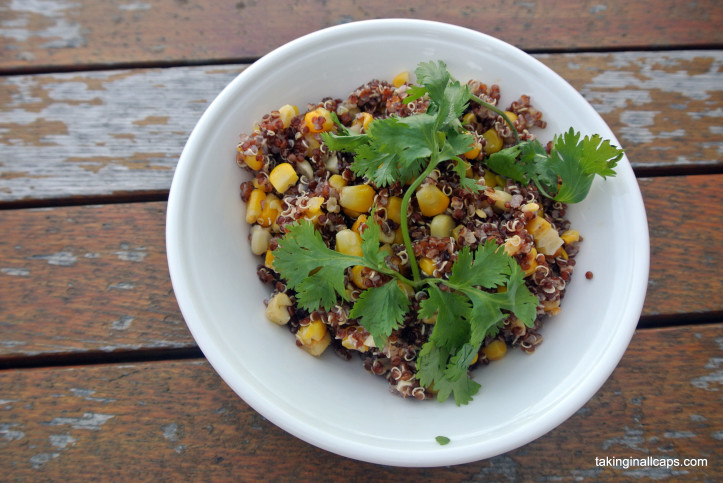 Did They Eat It?
Stephen: Really good. Mint might be good in it too.
Richard – I liked that and I'm not into spicy foods. Enough to liven it up.
Deb – Nice side dish. Healthy and spicy.
Nicky (1.5 years) – liked the salad and didn't mind the heat.
Gordie (4.5 years) – refused to try it. Was upset that the corn looked burnt so wouldn't try that either.
Dana – This was even better than I had expected.