I've decided to embark on a challenge to make 52 different salads over the next 52 weeks. I was inspired by my friend Misty's 52 cakes challenge and my friend Jenny's 52 cookies challenge. They sounded like so much fun I decided to do one of my own. But 52 weeks of cookies and cakes was not going to help me with my fitness goals for this year, so I'm going to do 52 salads instead.
I love salads, but I often find myself too lazy and disorganized to actually make them. I'm going to use this challenge to help me get in the habit of making salads and getting my family to eat more vegetables.
Additionally, my three year old son Gordie turns his nose up at anything labeled a salad so I'm going to try to see if I can win him over and
get him to try some salads.
For this challenge I am going to try to:
Make really different salads rather than subtle variations
Use a variety of sources for inspiration
Use seasonally available ingredients
Focus on salads with lots of vegetables that would work as a snack or side dish and will keep a few days in the fridge.
At least for the time being I'll also be choosing salads that are dairy free as Nicky is sensitive to dairy products.
I'm taking suggestions so if you have a favorite salad that I should try please let me know!
Now onto our first salad:
This salad was inspired by one that they make at Sunterra Market. They use green peppers which is quite pretty but the ones at the store when I went were all squishy. That's one of the things that's so great about making salads, a recipe is really only a guideline.
Roasted Sweet Potato and Cranberry Salad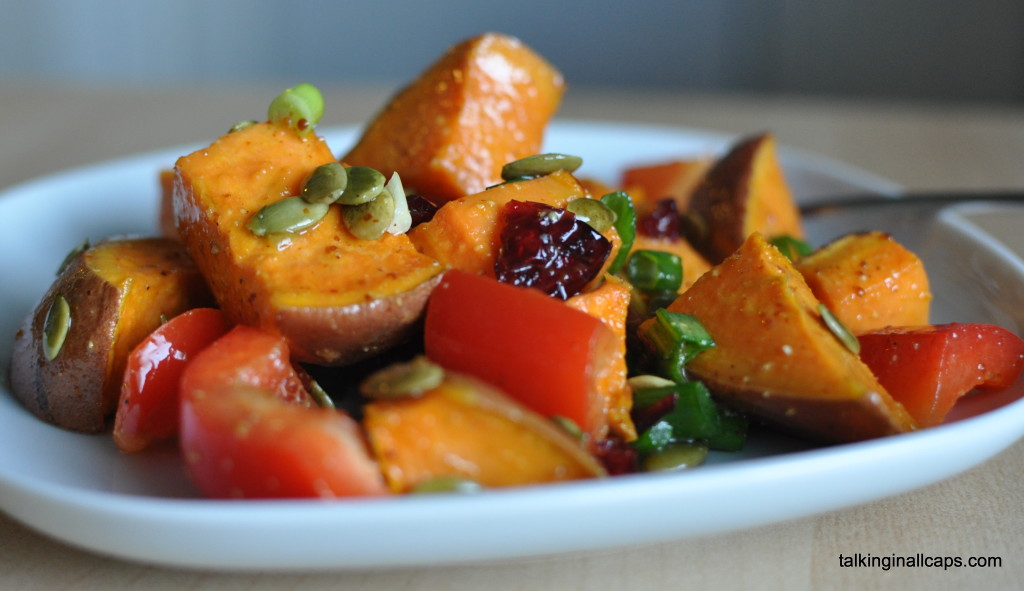 Salad #1 – Roasted Sweet Potato and Cranberry Salad Recipe – 52 Salads
Ingredients
1 large sweet potato cubed and roasted
1-2 red or green peppers chopped
1-2 green onion sliced
handful of dried cranberries
handful of pumpkin seeds
Maple Dijon Dressing
¼ cup extra virgin olive oil
1 Tbsp maple syrup
1 tsp dijon mustard
2 tsp white wine vinegar (or red wine or just white vinegar)
salt and pepper
Instructions
Mix the salad ingredients in a large bowl. Whisk, blend of shake the dressing ingredients together until they are well mixed. Use your hands to cover the salad with the dressing. You will probably have a bit more than you really need.
Note: When you are roasting the sweet potatoes test them often, you want them to be cooked but not mushy or they will just fall apart in the salad.
Did they eat it?
Gordie (3.5 years): Did not try it because it is a salad even though I presented him with just a piece of sweet potato
Nicky (10 months): Loved it, sweet potato and red peppers were a huge hit
Stephen: "Good. Doesn't really seem like a salad though."
Dana: I adore this salad. I would absolutely make it again. Aside from having to roast the sweet potatoes it's super easy to throw together too.
So there you have it – 1 down 51 to go.