For our second salad I went in search of something to use the yellow beets that I had gotten from Eagle Creek Farm's Winter CSA. Winter is not the easiest time to create a seasonal salad, but there is still quite a bit you can work with, beets included.
I came across a couple recipes for shredded beet salads. Now I'm no stranger to beets. I grew up on pickled beets and grew and roasted beets when I had my very first garden. But I had absolutely no idea that you could shred beets and eat them raw. At first I had thought this would fall into the category of, you can but would you want to (sort of like raw chicken, yeah, you can eat it raw but…).
But in fact when they are shredded they are very similar to the carrots. And yes, you can also use purple beets.
Shredded Yellow Beet, Carrot and Apple Salad with Ginger Orange Dressing Recipe
(adapted from Simply Recipes Morrocan Beet Salad)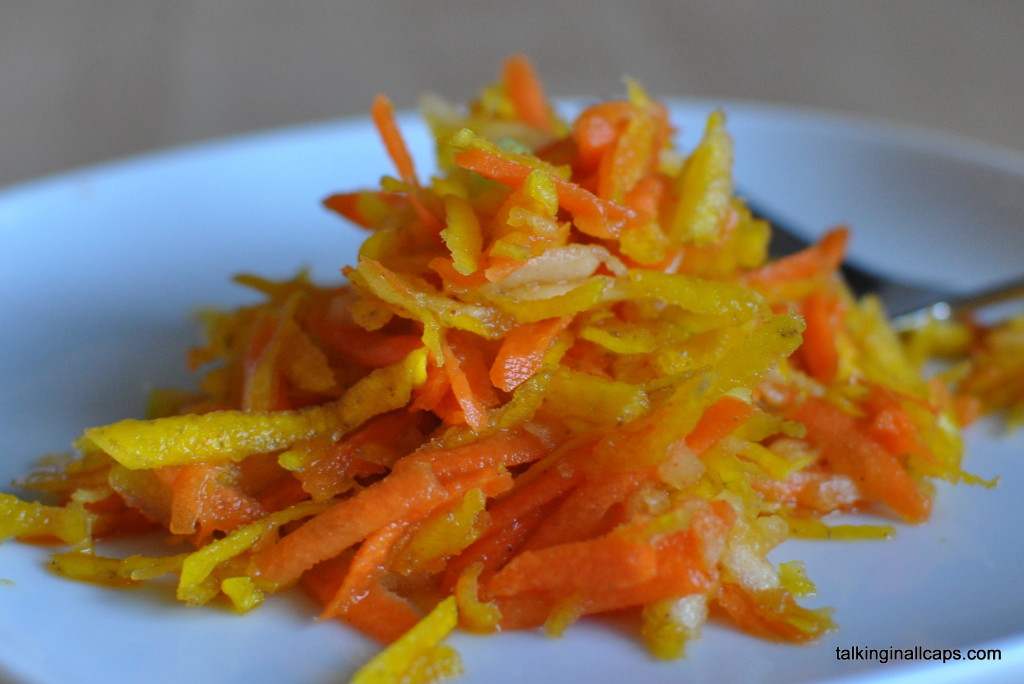 Salad #2 Shredded Yellow Beet, Carrot and Apple Salad with Orange Ginger Dressing
Ingredients
1 large beet
2 large carrots
1 apple (I like granny smith)
Orange Ginger Dressing
½ teaspoon paprika
¼ teaspoon ground cumin
¼ teaspoon ground ginger
pinch of salt
pinch of cayenne
juice of 1 orange
2 tbsp honey
Instructions
Peel and shred the carrots, beets and apples (the apple will also need to be cored). The beet will shred better if you cut it into smaller pieces first, think steak fries. If you have some kind of kitchen gadget to shred things, that would be handy. Put everything you've shredded into a large bowl.
Add the ingredients for your dressing into a small bowl and blend well.
Pour the dressing over your salad ingredients and mix. You will end up with quite a bit of dressing. You can use it all, it doesn't hurt for the salad to marinate in the fridge a little, and it can keep it from drying out or you can just add what you need if you are using it right away.
Alternatives:
If you are keeping it for a while you may want to use raisins instead of the apple, it'll still taste fine, but the color goes a bit off over time.
You could also make the dressing as simply recipes did with lemon juice instead of orange juice and cinnamon instead of ginger
If you have a baby under 12 months you may want to substitute the honey for corn syrup, rogers golden syrup or maple syrup (I forgot so didn't give it to Nicky).
Did they eat it?
Gordie (3.5 years): Tried some of the shredded vegetables before I put the dressing on it and made it into a salad.
Stephen: "Good. Cool and refreshing."
Dana: I liked this salad. It was a real surprise as I didn't expect much. It was pretty heavy on the ginger, I might reduce it if I was going to make it again. 2 down 51 to go.