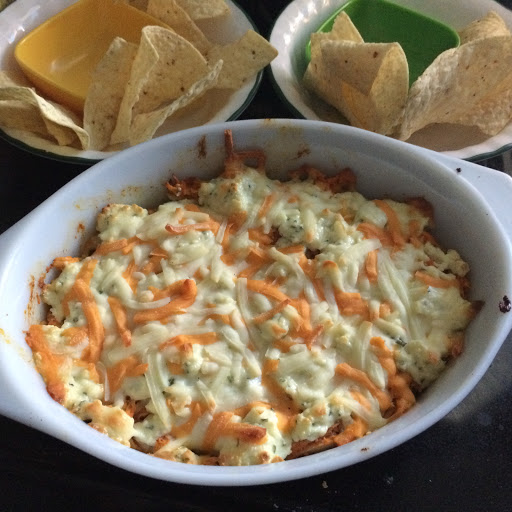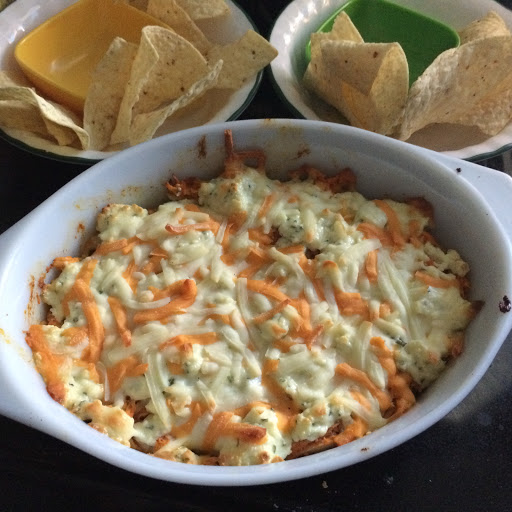 My friend Merry, makes a Buffalo Chicken dip that I really love. But I'm not really in love with blue cheese. I've tried different things to replace it but nothing was working like I wanted. One day I came across a post by Julie from Dinner with Julie about making a dip for hot wings out of Bousin cheese and I had the answer. It worked perfectly and is now my new favorite thing to make for a potluck.

Frank's Buffalo Chicken Dip - no blue cheese
Ingredients
8 oz brick cream cheese
2 cups cooked chicken, shredded or chopped (I like using leftover rotisserie chicken)
½ cup Frank's Red Hot Sauce (I used Frank's Buffalo Wing Sauce (not hot sauce))
2-4 Tbsp butter, melted (more butter will tone down the heat)
1 package boursin cheese
¼ to ½ cup mozzarella cheese shredded
Instructions
Preheat oven to 300°F.
Mix melted butter and hot sauce. Combine with chicken.
Layer in a shallow oven proof dish - first cream cheese, then chicken mixture, then boursin and top with a light layer of mozzerella.
Bake for until mozzerella is melted - about 20 minutes.
Great served with tortilla chips, or you can use it as a veggie dip for carrots or celery. It's also super good on a bed of lettuce.