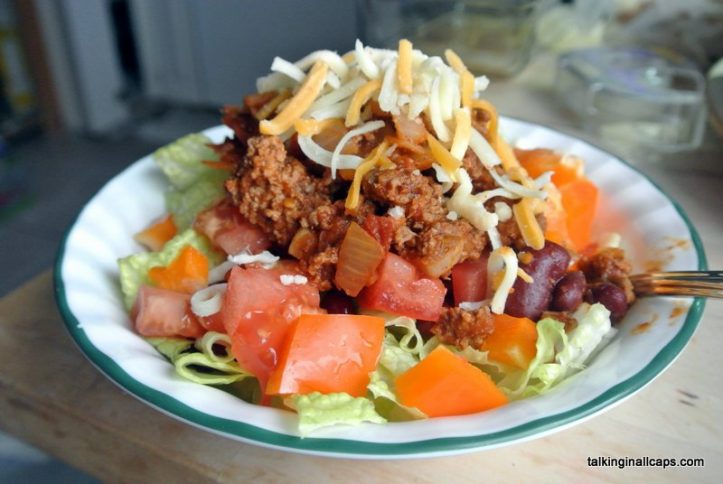 I'm a big fan of taco salads. I find the ones that you can get at a restaurant tend to be really high in calories though. Taco Salads don't have to be in order to be filling and delicious.
Increase the nutritional content by swapping the traditional iceberg for romaine lettuce.
Reduce the meat but none of the taste by making it into a dry chili with salsa, tomatoes, red kidney beans and spices.
Or swap the ground beef for lean ground turkey.
For creaminess, add avocado or just a tsp of mayo or sour cream to the chili.
Use a small amount of a strong cheese like old cheddar.
Crush just a tortilla chip or two for crunch.
Salad #52 - Healthy Taco Salad
Ingredients
Romaine lettuce, ripped into bite sized pieces
Cooked ground beef
Chopped tomatoes
Red kidney beans
Salsa
Taco Seasoning
Avocado
Old Cheddar, shredded
a tsp of mayo or sour cream (optional)
A couple of tortilla chips (optional)
Instructions
Mix up the ground beef, chopped tomatoes, red kidney beans, salsa and taco seasoning. Heat in a frying pan until cooked through or just mix cold.
Layer your salad starting with the lettuce then add the dry chili and top with avocado, cheese, and optional ingredients.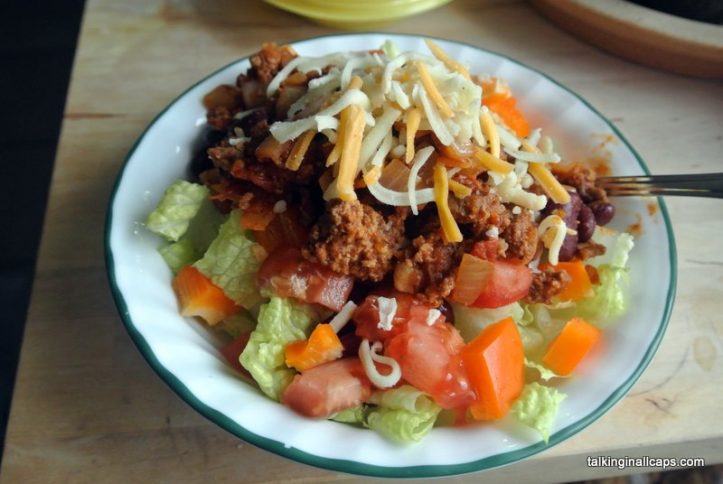 Did They Eat It?
Stephen: It was good.
Nicky (2 years old): Liked the meat, beans and peppers.
Gordie (5 years old): "Too spicy!"
Dana: I love this salad. I like adding just a little bit of mayo for some creaminess.